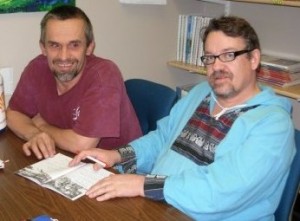 The Adult Literacy Learners program helps adult English speakers learn to read and write. Students, from beginning readers to those preparing for the GED, work with volunteer tutors. 
Update...
We continue to offer adult basic literacy classes at Matt Talbot Kitchen on Tuesday and Thursday afternoons, and we offer such services to inmates at the Lancaster County Jail. However, for the time being we are not making new 1-1 matches in this area, while we gear up our new Adult Empowerment Programs. These will include basic literacy, of course, but we're excited to introduce several other services as well. Not all at once, perhaps, but we look forward to offering financial literacy, information literacy, GED preparation, Certified Nursing Aide preparation, and more. Stay tuned!
For more information, please call 402.476.7323.