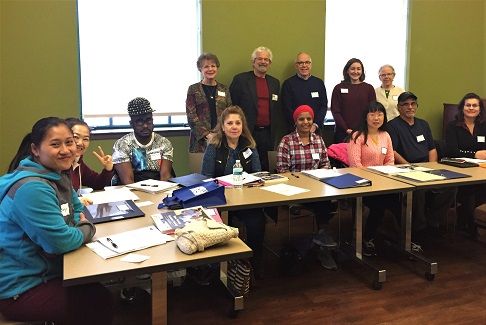 The Adult Literacy program at Lincoln Literacy is growing!! We need learners who are in need of tutoring to improve their literacy skills. Lincoln Literacy has a wide array of programs to meet the needs of adults who need help with basic literacy skills such as reading and writing, who want to obtain a GED and need assistance with the language and reading comprehension on each section of the test, as well as those who may be ready to take the next step in improving their work life.  For work life skills, Lincoln Literacy has added a Certified Nurse Assistant course (CNA) especially geared toward those for whom English is a second language. In addition, we hold courses in Information Literacy to help separate fact from fiction on the web.

We are especially trying to reach out to those learners who may have grown up with English as their first language, but for some reason, their language learning was interrupted and they don't feel fully competent in reading, speaking or writing English, and it may be holding them back in participating fully in family, work or community life.

Lincoln Literacy welcomes all learners and provides services which will help them improve their literacy skills - from reading and writing, to studying for the GED, helping them participate more in the community, or preparing to take the next step in applying for a better job.

More information:

CNA PREP CLASS:
Lincoln Literacy and Bryan College of Health Sciences to offer a program for refugees and immigrants to become Certified Nursing Assistants (CNA's).

With funding from Community Health Endowment, we provide qualifying students scholarships for tuition, lab, and book costs. After completing accredited class at Bryan and passing state exam, students become certified as CNA's.

CNA Prep classes are in the Spring and the Fall. Entry is competitive – 8 students will be admitted in each session.

Basic requirements:
* Good oral and written English.
* Green card, U.S. citizenship, or similar work authorization.
* Willing to commit to two-hour Monday morning class and full day Bryan College class afterwards.
* Able to study at least 10 hours per week outside of class.
* Sincere interest in working as a CNA after completion of the Bryan College class. 

GED PREP CLASSES:

If you lack a U.S. High School diploma, or the degree you earned in another country is not recognized here, you may want to apply to be in Lincoln Literacy's GED Prep Class.
A GED, or graduate equivalency degree, can be an important first step toward a career. 
Preparing for the GED exams on your own is tough. Having tutors and classmates makes the long journey fun and companionable. That's why Lincoln Literacy's GED Prep classes are such a big help to so many. They meet Monday, Tuesday and Wednesday evenings at Bennett Martin Library in downtown Lincoln from 6 - 7:30 pm.  Mondays are Reading and Writing focused, Tuesdays are Math and Wednesdays are Science and Social Studies.  There are four sections on the GED - Reasoning Through Language Arts (Reading and Writing) with an essay section, Math, Science and Social Studies.  Lincoln Literacy classes cover them all and we have fun while doing so!  
MONEY & ME CLASS:
A Beginner's Guide to Financial Literacy!  If you want to learn about the ins and outs of renting, purchasing your first home, choosing a bank or credit card, and learning tools to make good financial decisions and manage your money, this class is for you.  Taught by a Lincoln Literacy board member Certified Public Accountant, this is a small class which will guide you through all of these topics and more. The class is usually held once a week for approximately 10 weeks each Spring and Fall. The class is free and childcare is provided. 

To learn more information about any of these classes please email info@lincolnliteracy.org or call (402) 476-7323.
New Beginnings:
Adult Literacy Group

Lincoln Literacy offers an Adult Literacy Class called New Beginnings. Just as the title implies, this class is a chance to begin your own new learning opportunities!  Lesson topics are guided by the students as they each determine individual literacy goals. Whole group lessons, individual tutoring, and the use of technology are a part of each lesson. 

The class meets at Matt Talbot Kitchen and Outreach, located at 2121 N. 27th Street.  Class meets twice weekly for 1 ½ hours each day.

This wonderful group of learners are welcoming, supportive, and eager to keep learning each day.  Come check it out. It's never too late for a New Beginning! 

Schelert Teacher Prep Program

The Schelert Teacher Prep Program believes immigrants and refugees are a vital part of students' educational experience.   Students who may have taught in another country and would like to continue teaching in Nebraska can receive Lincoln Literacy's support, as well as students new to the teaching field.  

Lincoln Literacy is committed to supporting these future teachers as they each bring unique talents, experiences, and perspectives of the world to our community of Lincoln.  Assistance from Lincoln Literacy includes: lessons and encouragement with a one to one tutor, a chromebook, Praxis preparation material, assistance in applying for the Praxis exams and covering the cost of tests. 

Lincoln Literacy is in collaboration with the Teaching, Learning and Teacher Education  Department at the University of Nebraska, in Lincoln  (TLTE). They are supportive of our commitment to this teacher preparation program.  You can contact the Lincoln Literacy office for more information at info@lincolnliteracy.org or call (402) 476-7323.