All in-person classes are cancelled until further notice, due to the Covid-19 virus. For online ideas and groups, visit this page on our website.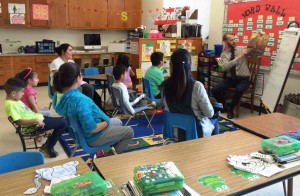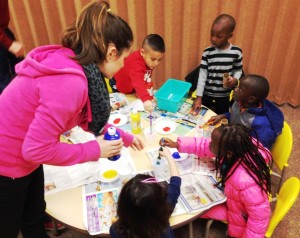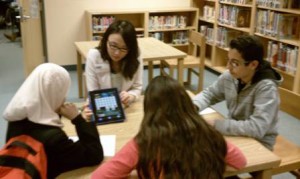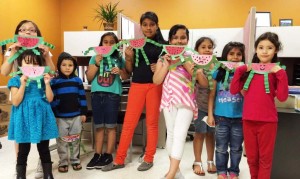 Family Literacy Activities for Immigrants and Refugees (FLAIR)
Lincoln Literacy's Family Literacy Activities for Immigrants and Refugees (FLAIR) program, which began in spring 2008 with five sites, is currently operating at fifteen sites this spring, including a number of schools with high immigrant enrollment, as well as at partner churches and community centers.
Each week, FLAIR staff and volunteers read aloud to children from English-language-learner families. After the story, literacy volunteers engage the children in discussion and creative activities such as drawing, writing, and making models. All children are encouraged to participate in the discussion and guided to make personal connections to the material.
Topics range from science and history to art and popular culture; lessons at daytime sites, primarily attended by preschoolers, also focus on school-readiness skills such as sharing, waiting turns, phonemic awareness and concepts of print (This last term refers to understanding how books work. That's not automatically clear to children from other cultures.)
Thanks to a successful ongoing book drive, we are able to give age-appropriate books to all children at our FLAIR sites. Having books at home is extremely important for early literacy development, and some of our children are receiving their very first books from FLAIR.
If you or someone you know is interested in more information, or volunteering for this program, please contact Child & Family Programs Manager Shawn Williams at swilliams@lincolnliteracy.org.