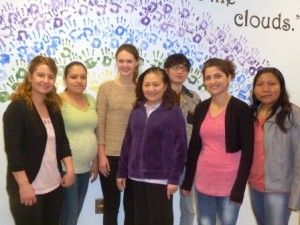 Any adult who lives in Lincoln or Lancaster County can be a student at Lincoln Literacy. We also can help 16 and 17 year old people who are not in school.

No. We are a private organization. We believe that it is in our community's best interest that everyone living here be able to communicate in English.

English classes and 1-1 tutoring is free. If you need a book for your class, we sell books for a discount. Most of our books are not expensive.

Your English will get better if you meet with your tutor or group and study. You and your tutor will work together so that you can learn the English you need to do what is important to you. Some of our students get jobs or get better jobs, get driver's licenses, pass the citizenship exam, learn to talk to doctors and nurses, learn to read notes from their kids' schools, and make American friends. Some students go on to community college or four-year colleges.