This page is currently being updated. 
Please check back soon for more lesson plans and ideas! 
---
---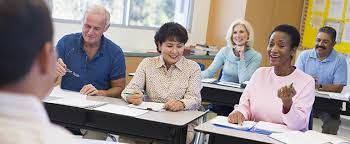 ---
---
---
Online Learning Resources for Children
Printable Lessons & Materials
Beginning ELL Lessons
High Beginner
Low Intermediate Health Stories
Intermediate ELL Lessons
Advanced ELL Lessons
What is Blended Learning?
Blended learning is a combination of face-to-face learning and online learning. It can help both tutors and students in several ways. If a tutor has learners at different levels, or with different needs, in her class, she can get one or more students working on an online learning task while giving attention to another, and then vice versa. Online resources can also be a helpful way to teach a topic that a tutor doesn't know much about. Perhaps most important of all, blended learning can enable and encourage students to learn every day! We are building up a library of resources and activity guides online. 
Here are some suggestions to try with your student, using a cell phone or Chromebook laptop, available for checkout at Lincoln Literacy.
Duolingo: How To Make Use of the App
Beginner Reading Lesson Plan (Level 0) 
Blended Learning- Intermediate Listening Comprehension
The following are just some of the many online learning resources you and your students can use:
Tutor Ready Reading
www.tutorready.learnerweb.org Tutor Ready Reading is a self-paced online learning resource that will help you with materials, resources and videos to teach your student learner.  You do need to create an account (username and password) but the site is free to use and you can go at your own pace.  It is divided into sections or modules covering different topics including Phonemic Awareness, Decoding, Fluency, Vocabulary, and Comprehension. It also shows tutors actually teaching students in a series of short videos.  At the end of each section are links to resources if you would like to learn more about a particular topic.
Workplace Skills
http://learntoearntoolkit.org/  (tool kit that focuses on teaching 10 skills needed in the workplace)
Alphabet Learning
https://www.eslflashcards.com/ (online flashcards with alphabet and other vocab words)
http://www.michellehenry.fr/alpha.htm#alpha (printables, games, online lists)
https://www.spellingcity.com/teachers-overview.html (app/ website: slightly geared towards kids, but tutors can customize letters, words, or vocab and have student practice writing them, using them in sentences, lots of games/ activities they can do individually- free, but you can pay for a yearly subscription for a group of students as well)
Beginning Reading
http://englishinteractive.net/reading.html (hundreds of online stories with audio, comprehension exercises; also links tutors can use to find other vocab, listening, speaking and writing tools)
https://www.rong-chang.com/reading.htm (online stories, audio, exercises for comprehension, all levels)
Group Games
http://www.englishmedialab.com/classroom_games.html (tutors can input material in advanced and this creates games such as jeapordy, easy review games, etc. that the whole class can use)
http://eslgames.com/esl-apps/ (website with games that can be played individually and in groups)
Lesson Modules
http://iteslj.org/Lessons/ (detailed lesson plans over a variety of topics and levels)
http://www.esl-galaxy.com/adults.html (premade lesson plans, worksheets, games, activities)
Youtube Videos
https://www.youtube.com/user/duncaninchina/videos (tons of short informative videos specific for ESL)
https://www.youtube.com/watch?v=Hpg9aflh2FI (Kurdish subtitles for songs.. Not ESL lesson, could work for vocabulary)
https://www.youtube.com/watch?v=hccJH_JLx0I (Learn English with Arabic subtitles)
https://www.youtube.com/watch?v=iNRc3WypL7I (English lessons for Arabic speakers- series)
Resources